The recent events of the pandemic have affected people worldwide, causing many of them to lose their jobs. This means that people are now looking for ways to work from home and make a living or some extra money.
Although it is very difficult to accomplish, there are a lot of available professions for people to do from their homes and have a decent salary. Even though working from home is not a solution for everyone, there are several options available to most people depending on their skillsets.
Audiobook Recording Professional
A rather unique choice for a job. This job entails narrating a book out loud and maybe some character inflection or voicing, depending on the subject matter. Before the pandemic, these audiobook jobs took place in a studio, but now, studio equipment like microphones are being sent to employees at their residence.
Overall, this is a new and modern job that stems from the rising demand from audiobook listeners and platforms like Amazon's Audible.
There are also a lot of writers who look for people to audio record their books. You can apply to positions offered by writers on ACX (site) or you can post your portfolio on Brilliance Audio. If you have a strong and recognizable voice, don't waste another minute– this job is for you!
Web Designer
Whether it's for your own business or someone else's, web designing is a job that has a lot of demand as many people who start their businesses online need website creators. If you believe that you have the proper skills and abilities, try and find this kind of job. Make sure to advertise yourself properly too.
Take advantage of all the various social media platforms, create accounts for your service, and build a network. Whenever you find a job and create a website, don't forget to post pictures and samples of your work on your social media accounts. The more posts you have, the more people see your work, and your chances of being hired increase.
Sell Homemade Products
If you have a talent for creating homemade crafts, there is a job for you. By creating an online store, you can sell your crafts and make a profit.
It doesn't matter what kind of crafts you make. What you need is a good website, a lot of advertising, and a wide range of products.  Make sure to take professional pictures of your crafts and to post them on your site. Like these crocheted sushi rolls pictured below.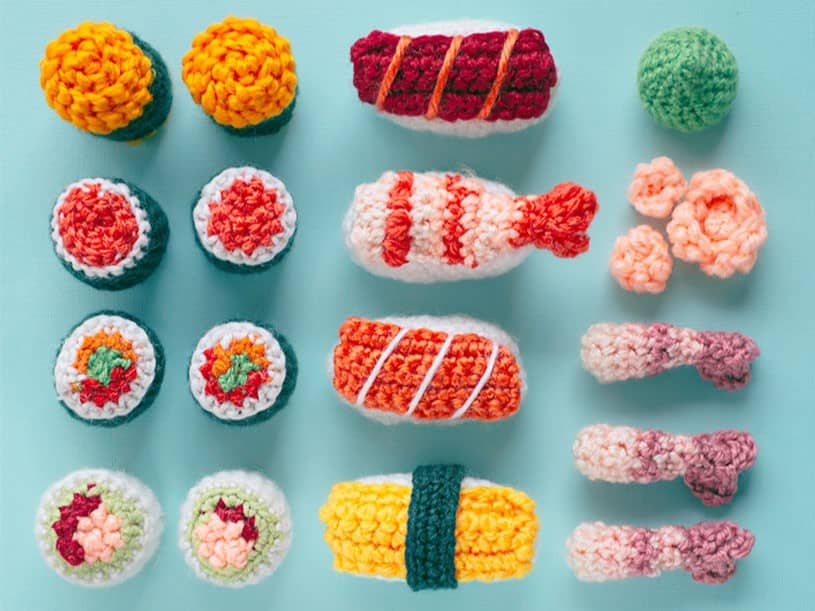 You should provide "catchy" descriptions and update your site regularly. Also, add some customer service to promote your site's friendliness. In general, create a credible website and make it as unique as possible.
Furthermore, even though the prices will depend on the quality and the materials of your crafts, don't forget that we all are experiencing a pandemic. Make sure your products are affordable, and if some of them are more extravagant, try to sell them at "reasonable" expensive prices.
Also, include on your site your story and the reason why you created this website. A personal touch on your website is what will differentiate it from all the others!
Online Teaching
This particular profession is a very interesting one. You don't exactly need to be a teacher or a professor to teach online, but some experience in the field would be really helpful for you.


If you feel like teaching is something you could pursue and you are an expert in your field, you can teach a class online. For example, if you are a Biologist, you can teach Biology to High School students that need some extra help.
Another instance where you could use your skills to teach would be if you are bilingual. For instance, if you are Greek-American that speaks both Greek and English, you can teach English to some native Greek speakers looking to learn English.
During the pandemic, a lot of people start learning new languages as a hobby and many kids are homeschooled. Hence, if you can teach you can easily benefit from these two circumstances.
Writing or Blogging
A job many people try is writing articles online for news sites and blogs. It is a very interesting job that can provide you with some money.
You don't need to be a journalist in particular, but if you work in a similar field you have many beneficial skills suited for this job. It is really important to be adaptable since you might start writing as a content writer for a blog, but, later on, you might have the chance to write as a columnist on a news website. Here are some blog ideas in the graphic below: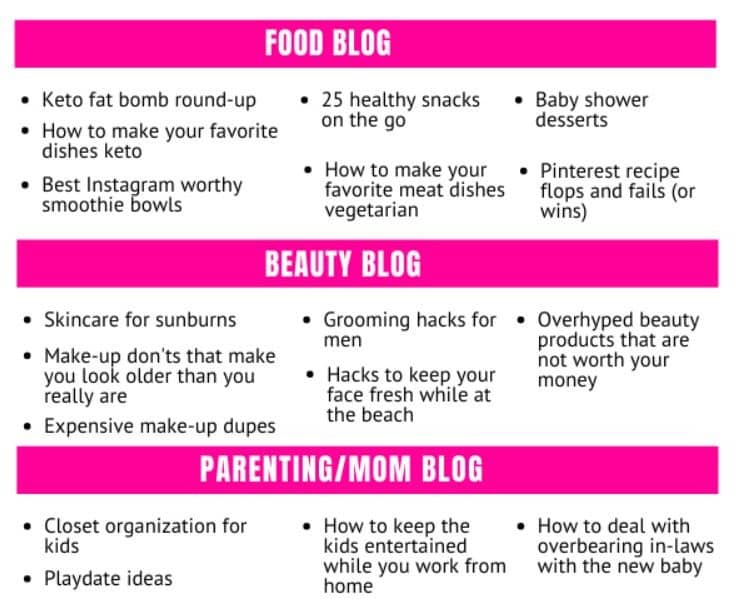 Furthermore, you can also try creating your own blog. It might take a while to make some money, but if you gain enough publicity you will gain some money for sure!
Conclusion
What we are experiencing now is a very difficult period in our lives, both financially and mentally. Having a job can help you face this pandemic both financially and psychologically. So, make a CV, try applying to as many positions as possible, and don't lose hope!
short url:
https://bsng.us/9zs